Difference Between Disc Brake and Drum Brake
2022/04/14
---
Disc brake: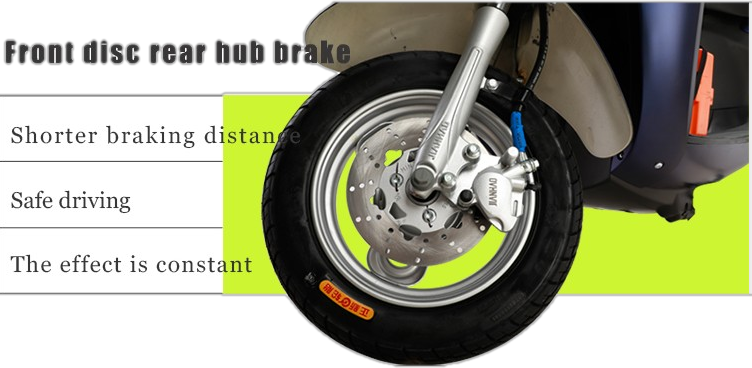 The disc brake is that disc pushes the brake caliper through the hydraulic pump, and grasps the brake disc. Different from the hub brake, more linear and It doesn't stop all of a sudden.
The advantages of the disc brake:
Ø Disc brakes have better heat dissipation than drum brakes, and they are less likely to cause brake degradation and brake failure when continuously stepping on the brakes.
Ø The change in size of the brake disc after heating does not increase the stroke of the brake pedal.
Ø The disc brake system responds quickly and can do high-frequency braking actions, which is more in line with the needs of the ABS system.
Ø Because the brake disc has better drainage, it can reduce the situation of poor braking due to water or mud.
Ø Compared with drum brakes, disc brakes are simple in structure and easy to repair.
The disadvantage of disc brake:
Ø Because there is no automatic braking effect of the drum brake, the braking force of the disc brake is lower than that of the drum brake.
Ø The friction area between the brake pad and the brake disc of a disc brake is smaller than that of a drum brake, so that the braking force is also smaller.
Ø The hand brake device is not easy to install. Some models with disc brakes on the rear wheels have specially added a set of hand brake mechanisms with drum brakes.
Hub brake: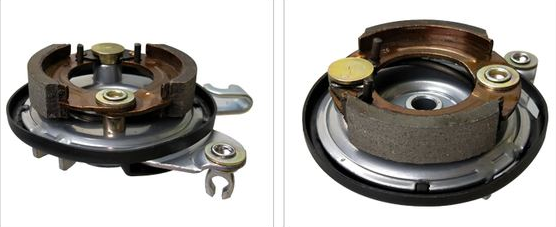 The brake principle of the hub brake is to pull or push the brake hub in the brakehub so that the shoes on both sides are close to the inner wall of the wheel to achieve the braking effect.
The wheel is rolling forward, and the forward rolling force acts against the brake hub. As the brake hub and the wheel are in full contact, the braking force will increase instantaneously and the braking effect will be obvious.
Advantages of the drum brake:
Ø The brake force is large and can be stopped in time. We can often see that large trucks are generally hub brakes
Ø The cost of the hub brakes is lower than that of disc brakes.
Ø The parking brake mechanism is easy to install.
Disadvantages of the drum brake:
Ø The diameter of the brake drum of the drum brake will increase after being heated, which will increase the stroke of stepping on the brake pedal, and it is easy to happen that the brake response is not as expected.
Ø The brake system reacts slowly, and the pedaling force of the brake is not easy to control, which is not conducive to high-frequency braking actions.
Ø There are many parts with complex structure, and the brake clearance must be adjusted, making maintenance difficult.